How are your fallen from heaven, O Lucifer, son of the morning? How are your fallen to the earth, conqueror of the nations? And you said in your heart: I will ascend into heaven, I will exalt my throne above the stars of God, I will sit in the mountain of the congregation, in the sides of the north. I will ascend above the height of the clouds, I will be like the Most High.
But yet you shall be brought down to hell, into the depth of the pit. They who shall see you, shall turn toward you, and behold you: Is this the man who troubled the earth, who shook kingdoms, who made the world a wilderness, and destroyed the cities thereof, who opened not the prison to his prisoners? (Prophet Isaiah 14:12-17)
You were the seal of resemblance, full of wisdom, and perfect in beauty. You were in Eden the Paradise of God, every precious stone was your covering: the sardius, the topaz, and the jasper, the chrysolite, and the onyx, and the beryl, the sapphire, and the carbuncle, and the emerald, gold the work of your beauty, and were prepared in the day that you were created. You are the anointed cherub who covers, and I set you in the holy mountain of God, you have walked in the midst of the stones of fire. You were perfect in your ways from the day you were created, until iniquity was found in you. By the multitude of your merchandise, your inner parts were filled with iniquity, and you have sinned, and I cast you out from the mountain of God, and destroyed you, O covering cherub, out of the midst of the stones of fire. And your heart was lifted up with your beauty, you have corrupted your wisdom in your beauty, I have cast you to the ground and made you a ridicule among kings. You have defiled your sanctuaries by the multitude of your iniquities, and by the iniquity of your traffic. Therefore I will bring forth a fire from the midst of you, to devour you, and I will make you as ashes upon the earth in the sight of all who see you. All who shall see you among the nations, shall be astonished at you, you are brought to nothing, and you shall never be any more. (Prophet Ezekiel 28:12-19)
---
If the Son shall make you free, you shall be truly free.
(Our Lord Jesus - St John 8:36)
---
Then Jesus was led by the spirit into the desert, to be tempted by the devil. And when he had fasted forty days and forty nights, afterwards he was hungry. And the tempter coming said to him: If you are the Son of God, command that these stones be made bread. He answered and said: It is written, Not in bread alone does man live, but in every word that proceeds from the mouth of God. Then the devil took him up into the holy city, and set him upon the pinnacle of the temple, And said to him: If you are the Son of God, cast yourself down, for it is written: That he has given his angels charge over you, and in their hands shall they bear you up, lest perhaps you dash your foot against a stone. Jesus said to him: It is written again: you shall not tempt the Lord your God. Again the devil took him up into a very high mountain, and showed him all the kingdoms of the world, and the glory of them, and said to him: All these will I give you, if falling down you will adore me. Then Jesus said to him: Begone, Satan: for it is written, The Lord your God shall you adore, and him only shall you serve. Then the devil left him; and behold angels came and ministered to him. (St Mathew 4:1-11)

And having called his twelve disciples together, he gave them power over unclean spirits, to cast them out, and to heal all manner of diseases, and all manner of infirmities. (St Mathew Chapter 10). And after these things the Lord appointed also other seventy-two: and he sent them two and two before his face into every city and place where he himself was to come.... And the seventy-two returned with joy, saying: Lord, the devils also are subject to us in your name. And he said to them: I saw Satan like lightening falling from heaven. Behold, I have given you power to tread upon serpents and scorpions, and upon all the power of the enemy: and nothing shall hurt you. But yet rejoice not in this, that spirits are subject unto you; but rejoice in this, that your names are written in heaven. (St Luke Chapter 10)
---
The thief comes not, but for to steal, and to kill, and to destroy. I have come that they may have life, and may have it more abundantly.
(Our Lord Jesus - St John 10:10)
---
And I said: Who are you, Lord? And the Lord answered: I am Jesus whom you persecute. But rise up, and stand upon your feet; for to this end have I appeared to you, that I may make you a minister, and a witness of those things which you have seen, and of those things wherein I will appear to you, delivering you from the people, and from the nations, unto which now I send you:
To open their eyes, that they may be converted from darkness to light, and from the power of Satan to God, that they may receive forgiveness of sins, and a lot among the saints, by the faith that is in me. (St Paul - Acts 26:15-18)

And we beseech you, brethren, by the coming of our Lord Jesus Christ, and of our gathering together unto him... Let no man deceive you by any means, for unless there come the apostasy first, and the man of sin be revealed [Antichrist - Satan man], the son of perdition, who opposes, and is lifted up above all that is called God, or that is worshipped, so that he sits in the temple of God, showing himself as if he were God... For the mystery of iniquity already works; only that he Who [Holy Spirit] now holds, do hold, until He be taken out of the way. And then that wicked one shall be revealed whom the Lord Jesus shall consume with the spirit of his mouth; and shall destroy with the brightness of his coming, him, whose coming is according to the working of Satan, in all power, and signs, and lying wonders, and in all seduction of iniquity to them that perish; because they receive not the love of the truth, that they might be saved. Therefore God shall send them the operation of error, to believe lying. That all may be judged who have not believed the truth, but have consented to iniquity. (St Paul - 2Thessalonians 2)
And when the Son of man shall come in his majesty, and all the angels with Him, then shall he sit upon the seat of his majesty. And all nations shall be gathered together before Him, and He shall separate them one from another, as the shepherd separates the sheep from the goats; And He shall set the sheep on his right hand, but the goats on his left. Then shall the king say to them that shall be on his right hand: come, you blessed of my Father, possess the kingdom prepared for you from the foundation of the world... Then he shall say to them also that shall be on his left hand: depart from me, you cursed, into everlasting fire which was prepared for the devil and his angels... And these shall go into everlasting punishment, but the just into life everlasting." (Our Lord Jesus - St Matthew 25:31-46)
We know that we are of God, and the whole world is under the wicked one. And we know that the Son of God has come, and he has given us understanding that we may know the true God, and we may be in his true Son. This is the true God and life eternal. (1Jhn 5:19-20)
You are of God, little children, and have overcome him. Because greater is he who is in you, than he who is in the world. (St John 1Jhn 4:4)
For such false apostles are deceitful apostles, transforming themselves into the apostles of Christ. And no wonder: for Satan himself transforms himself into an angel of light. Therefore it is no great thing if his ministers are transformed as the ministers of justice, whose end shall be according to their works. (St Paul 1Corinthians 11:14-15)
Be subject therefore to God, but resist the devil, and he will flee from you. (St James 4:7)
And the God of peace crush Satan under your feet speedily. The grace of our Lord Jesus Christ be with you. (St Paul Romans 16:20)
The Son of God appeared, that he might destroy the works of the devil. (St John 1Jhn 3:8)
And even if our gospel is veiled, it is veiled to them who are lost, In whom the god of this world [Satan] has blinded the minds of unbelievers, that the light of the gospel of the glory of Christ, who is the image of God, should not shine unto them. (St Paul 2Corinthians 4:3-4)
And you, when you were dead in your offenses, and sins, Wherein in time past you walked according to the course of this world, according to the prince of the power of the air [Satan], the spirit that now works on the children of disobedience, in which also we all once conducted ourselves in the desires of our flesh, fulfilling the will of the flesh and of our thoughts, and were by nature children of wrath, even as the rest. But God, who is rich in mercy, for his exceeding love with which he loved us, Even when we were dead in sins, has gave us life together in Christ, (by whose grace you are saved,) And has raised us up together, and has made us sit together in the heavenly places, through Christ Jesus. (St Paul Ephesians 2:1-6)
Now is the judgment of the world, now shall the prince of this world [Satan] be cast out. And I, if I be lifted up from the earth, will draw all things to myself; You have heard that I said to you: I go away, and I come unto you. If you loved me, you would indeed be glad, because I go to the Father; for the Father is greater than I. And now I have told you before it comes to pass, that when it shall come to pass, you may believe. I will not now speak many things with you. For the prince of this world comes, and he has no power over me. (Lord Jesus - St Matthew 12:31-32; 14:28-30)
For our wrestling is not against flesh and blood; but against principalities and power, against the rulers of the world of this darkness, against the spirits of wickedness in the high places. (St Paul Ephesians 6:12)
And despoiling the principalities and powers, He has exposed them confidently in open show, triumphing over them in himself. (St Paul Colossians 2:15)
Giving thanks to God the Father, who has made us worthy to be partakers of the lot of the saints in light. Who has delivered us from the power of darkness, and has translated us into the kingdom of the Son of his love, in whom we have redemption through his blood, the remission of sins. Who is the image of the invisible God, the firstborn of every creature, for in him were all things created in heaven and on earth, visible and invisible, whether thrones, or dominations, or principalities, or powers; all things were created by him and in him. (St Paul Colossians 1:12-16)
---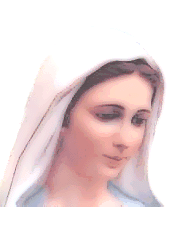 Our Lady of Medjugorje
This century in which we are living is under Satan's power. When the secrets I have confided to you come about, his power will be destroyed. Satan has become aggressive because he is losing his power. He is breaking up marriages, causing quarrels among priests, obsessing people, even killing them. Therefore, protect yourselves by prayer, fasting and, above all, community prayer. Renew the use of holy water, wear blessed and holy objects and put them in your homes...You must know that Satan exists, and that he asked God to allow him to test the Church for a certain period... Pray, dear children, that God's plan is brought into effect and that every work of Satan ends up for the glory of God... Be open to the Holy Spirit because God wishes to draw you to Himself in these days when Satan is at work... I call you to place more blessed objects in your homes and that everyone put some blessed objects on their person. Bless all the objects and thus Satan will attack you less because you will have armor against him... I call you especially now to advance against Satan by means of prayer. Satan wants to work still more now that you know he is at work. Dear children, put on the armor for battle and with the Rosary in your hand defeat him... By love turn everything into good which Satan desires to destroy and possess... I am calling you to prayer and complete surrender to God, because Satan wants to sift you through everyday affairs and in your life he wants to snatch the first place. Therefore, dear children, pray without ceasing... Satan is strong and is waiting to test each one of you. Pray, and that way he will neither be able to injure you nor block you on the way of holiness... Pray that Satan does not entice you with his pride and deceptive strength... Satan is strong and wants to destroy and deceive you in many ways and desires to destroy the peace which comes from God... For now as never before Satan wants to show the world his shameful face by which he wants to seduce as many people as possible onto the way of death and sin... I invite you to draw still closer to God through prayer. Only that way will I be able to help you and to protect you from every attack of Satan... I invite you to prayer now when Satan is strong and wishes to make as many souls as possible his own... I call you to pray for peace, for peace in your hearts, peace in your families and peace in the whole world, because Satan wants war, wants lack of peace, wants to destroy all which is good... Only through prayer can we defeat evil and protect all that Satan wants to destroy in your lives... Satan is strong and with all his forces wants to bring closer the most people possible to himself and to sin. That is why he is on the prowl to snatch more every moment. I beg you, little children, pray.. I call you all to pray for my intentions so that, through your prayers, you may stop Satan's plan over this world, which is further from God every day, and which puts itself in the place of God and is destroying everything that is beautiful and good. Satan is strong and desires to destroy not only human life, but also nature and the planet on which you live. Therefore, dear children, pray that through prayer you can protect yourselves with God's blessing of peace. God has sent me among you so that I may help you. If you so wish, grasp for the Rosary. A simple Rosary can work miracles in the world and in your lives.
---
St Faustina vision of Hell
The first torture that constitutes hell is the loss of God; the second is perpetual remorse of conscience; the third is that one's condition will never change; the fourth is the fire that will penetrate the soul without destroying it - a terrible suffering, since it is a purely spiritual fire, lit by God's anger; the fifth torture is continual darkness and a terrible suffocating smell, and, despite the darkness, the devils and the souls of the damned see each other and all the evil, both of others and their own; the sixth torture is the constant company of Satan; the seventh torture is horrible despair, hatred of God, vile words, curses and blasphemies.
These are the tortures suffered by all the damned together, but that is not the end of the sufferings. There are special tortures destined for particular souls. These are the torments of the senses. Each soul undergoes terrible and indescribable sufferings, related to the manner in which it has sinned. There are caverns and pits of torture where one form of agony differs from another. I would have died at the very sight of these tortures if the omnipotence of God had not supported me. Let the sinner know that he will be tortured throughout all eternity, in those senses which he made use of to sin. I am writing this at the command of God, so that no soul may find an excuse by saying there is no hell, or that nobody has ever been there, and so no one can say what it is like. I, Sister Faustina, by the order of God, have visited the abysses of hell so that I might tell souls about it and testify to its existence.
---
St Anthony
The Devil to St Anthony: "Many I deceived, many I cast down; but now attacking you and your labours as I had many others, I proved weak."
Then when I inquired, "Who are you?" he said, "I am Satan." Then when I said, "Why are you here?" he answered, "Why do the monks and all other Christians blame me undeservedly? Why do they curse me hourly?" Then I answered, "Why do you trouble them?" He said, "I am not he who troubles them, but they trouble themselves, for I am become weak. I have no longer a place, a weapon, a city. The Christians are spread everywhere, and at length even the desert is filled with monks. Let them take heed to themselves, and let them not curse me unreservedly." Then I marveled at the grace of the Lord, and said to him: "You who are ever a liar and never speaks the truth, this at length, even against your will, you have truly spoken. For the coming of Christ has made you weak, and He has cast you down and stripped you... If there had been any power in you, it would have sufficed had one of you come, but since the Lord has made you weak you attempt to terrify me by numbers... If you are able, and have received power against me, delay not to attack; but if you are unable, why trouble me in vain ? For faith in our Lord is a seal and a wall of safety to us."
Therefore, the Devil himself confesses that his power is gone, we ought utterly to despise both him and his demons; and since the enemy with his hounds has but devices of this sort, we, having got to know their weakness, are able to despise them.
The Lord therefore shut the mouths of the demons; and it is fitting that we, taught by the saints, should do like them and imitate their courage... For they are weak and can do nothing but threaten. (Life of St Anthony - St Athanasius)
---
At the hour of death, the soul is either claimed and carried by God's Angels or Satan's demons. Woe to that soul that is carried by Satan's demons. Now at the end time, Satan and his evil spirits about to be cast out, are increasing their assaults, as a loosing army giving all it has before its known defeat and fall. Our Lord Jesus defeated Satan at the Cross, and the Kingdom of God on earth has partly began through the Church. "Catechism of the Catholic Church: 671 Though already present in his Church, Christ's reign is nevertheless yet to be fulfilled with power and great glory by the King's return to earth. This reign is still under attack by the evil powers, even though they have been defeated definitively by Christ's Passover. 680 Christ the Lord already reigns through the Church, but all the things of this world are not yet subjected to him. The triumph of Christ's kingdom will not come about without one last assault by the powers of evil". The Most High has chosen the humble Mary the Daughter of the Father, the Mother of the Son, and the Spouse of the Holy Spirit, the Queen of heaven and earth, the Queen of Angels and Saints, the New Eve, the New Ark of the Covenant, the Secret Eastern Gate, the General Commander of the Heavenly Army, Michael the Archangel and his Angels, to rage war against Satan and his demons, in this final and fierce battle, to prepare for the fulfillment of the Kingdom of God, to protect and bring many sons and daughters to glory, and for the salvation of the world.
---