Pictures Storage Management Editor Security Archive
Freeware - Portable - No Setup - No Registration - No Limitation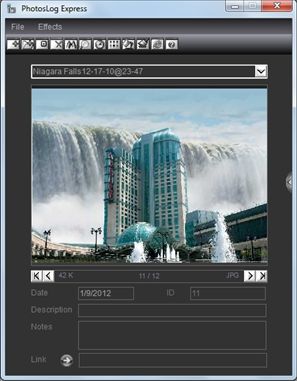 PAD XML File for Download Sites
---
Take your Photos anywhere. Use PhotosLog Express to Store, Retrieve, Search, View, Manage, and Archive Pictures in a Password Protected DataBase. Also includes Photo Editing and Effects. Files and Videos and Music may also be stored. Each DataBase stores up to 2 Gb. Unlimited number of DataBases with different Passwords may be used in different Folders. Features include detailed pictures information, notes, filter by category, thumbnails, slide show, full screen, auto-sort, auto-save. Photo Editing includes various filters and effects. Pictures may be retrieved from the DataBase to the default editor, to MSPaint, copied to the clipboard, saved to its original format, to bmp, jpg, gif, png, and tif formats. Use on hard, portable, flash drives, or writable medias.

---
Notes
Run One Time as Administrator in Newer Windows Versions as Windows Vista and Windows 7 then Uncheck Run as Administrator to prevent constant Security Popup.
For Windows 98, Windows NT & 2000 without latest Service Pack, Microsoft MSVBVM60.DLL required, and Microsoft GdiPlus.dll required for some features, if not present. http://medjugorjenet.com/MSVBVM60.zip http://medjugorjenet.com/GdiPlus.zip
---
All Software are tested and posted by major download sites and are clean and free from viruses, adwares, spywares, malwares....