Our Lady of Medjugorje Messages to the World
Freeware - Compact Size - No Setup - No Registration
Download

Servers

1

2

English

French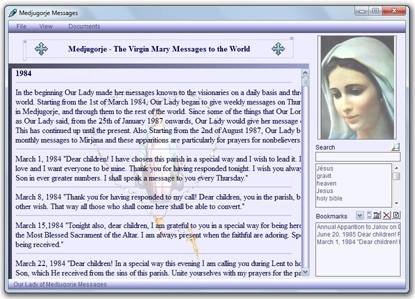 PAD XML File for Download Sites: English French
---
Software Version of Our Lady Messages; includes Search, Save Search, Yearly Messages Selections, Bookmarks, Export to Html & Text Files, Notes. Designed for fast Download & e-mail.
---
Notes
For Windows 98, Windows NT & 2000 without latest Service Pack, Microsoft MSVBVM60.DLL required if not present. http://medjugorjenet.com/MSVBVM60.zip
---
All Software are tested and posted by major download sites and are clean and free from viruses, adwares, spywares, malwares....