Auto Login to Web Accounts, Forms Fill, Links, and Shortcuts Manager
Freeware - Small Size File - Portable - No Setup - No Registration - No Limitation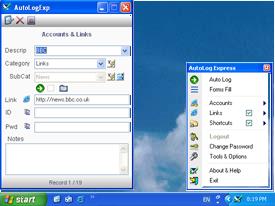 PAD XML File for Download Sites
---
Auto Login to Web Accounts, Forms Fill, Links, and Shortcuts Manager. Take your ID's, Pwd's, Links, & Personal Information anywhere, in a Password protected Data Base. No Setup & No Registration. Use on Hard, Portable, Flash Drives, or writable medias.
---
Notes
Run One Time as Administrator in Newer Windows Versions as Windows Vista and Windows 7 then Uncheck Run as Administrator to prevent constant Security Popup.
For Windows 98, Windows NT & 2000 without latest Service Pack, Microsoft MSVBVM60.DLL required if not present. http://medjugorjenet.com/MSVBVM60.zip
If you downloaded an earlier Version and missing MSVBVM50.DLL http://medjugorjenet.com/MSVBVM50.zip
---
All Software are tested and posted by major download sites and are clean and free from viruses, adwares, spywares, malwares....